Pet Food Labels Explained
Posted on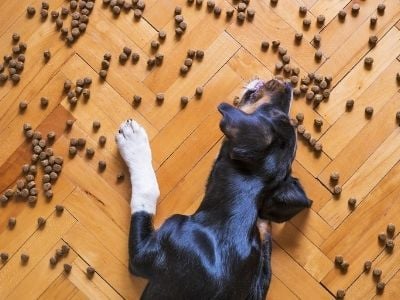 The front label on pet food packaging is primarily there to catch your eye and give you the key selling points at a glance, whereas the back label is focused on providing all the legally required details and the full breakdown of the product.
So, let's take a look at those information-packed back labels: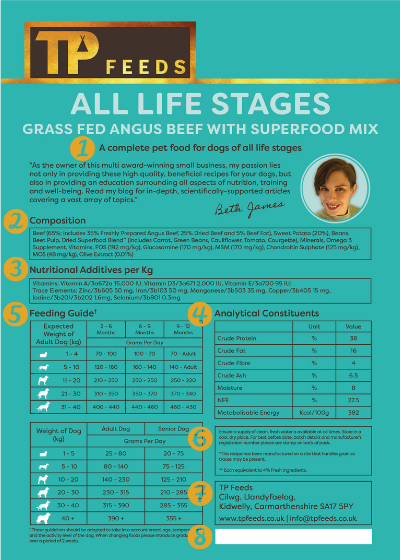 1. Labelling of Feed Materials
Regulation 767/2009 states that product packaging must give a declaration of the feed type; ordinarily, 'complete food', 'complementary food' or 'feed material'. A 'complete' food is a product that contains all the necessary nutrients for that species, when fed as directed, and needs no dietary additions. A 'complementary food' is a product containing more than one ingredient that must be fed alongside additional food; i.e. treats or mixer kibbles. A 'feed material' is a single ingredient, such as a Beef Bully Chew, that has nothing added. It is also generally required that the target species (i.e. 'dog', 'cat', 'rabbit' etc) is stated whilst an indication of life stage is also encouraged.
2. Composition
This is simply a list of the ingredients given in weight order, starting with the heaviest. Where emphasis is placed on ingredients in the product marketing, the individual percentage by weight of that ingredient must also be declared.
3. Nutritional Additives
Nutritional additives, such as vitamins, amino acids or trace elements, are essential for the nutritional benefit of your pet. Manufacturers are required to highlight certain additives and their category, along with the name and/or identification number and the amount added.
4. Analytical Constituents
Analytical constituents represent the average amount of certain nutrients in the product. Depending on the product, some are legally required figures, whilst others may be voluntarily declared by the manufacturer for full transparency or to substantiate any marketing claims. There are also legally defined tolerances for these values, to recognise unavoidable variabilities that may occur, such as biological variability in raw materials.
5. Feeding Guide
It is a requirement for instructions for the proper use of the product to be provided on the packaging. This is often displayed as a chart, providing guidance on the daily amount recommended based on your pet's weight and/or age. It is important to reiterate that this is purely a guide, based on the average pet of that size/age; consideration should be made for your pet's specific breed, age, temperament and activity level. I would always recommend using the suggested amount as a starting point and then adjusting based on any unwanted weight gain/loss, change in energy levels etc. Also note, for pets that are needing to gain or lose weight, base their recommended daily amount on their ideal weight, not their current weight.
6. Storage & Extra Information
Storage instructions such as 'store in a cool, dry place' or 'keep away from direct sunlight' are advised to be included on packaging so that the product can be kept in optimum conditions to ensure quality is retained. Any claims on the packaging that require clarification will be marked for comment in this section – such as the legally required declaration when grain free products are manufactured on a site that also handles grain for other products.
7. Business Address & Contact Details
Regulation 767/2009 requires that the address of the feed business operator responsible for the product is stated, along with a means of contacting them for further information or feedback.
8. Traceability Information
The best before date advises consumers about the date after which the product may not be at its best from a quality perspective. A product past its best before date also may not be nutritionally adequate as vitamins in the product degrade over time. A batch number is required to allow the product and its ingredients to be traced back to source. The presence of a manufacturer's registration number demonstrates that the establishment has passed all relevant inspections by the necessary authorities.