Introducing Your Dog To Your Horse
Posted on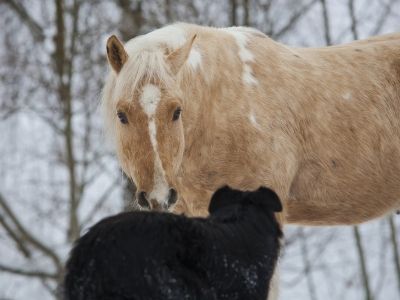 This isn't a combination to make without careful consideration of how necessary it is to introduce your dog and horse to each other. Even with the best trained and most carefully introduced animals, freak accidents can occur, causing serious injury, or worse, to animals or humans alike.
If you haven't already, I would advise you to read this article first: Before Introducing Your Dog To Livestock And Horses.
Take your horse to an enclosed area such as a corral or small field. Enter the area with your dog on a lead, keeping your distance from the horse and ignoring its presence.
Remember, you do not want your dog and horse to be 'friends', you want them to be indifferent to each other's existence.
Depending on your animals' individual temperaments, this stage could need to be repeated over the course of several days until both parties are comfortable in the presence of the other. Doing some relaxed training or simply talking to your dog nonsensically can help to keep them distracted and more at ease.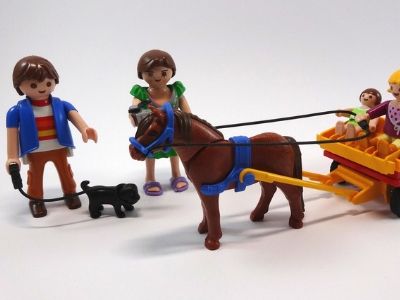 Once you are all feeling confident and settled, slowly decrease the distance between you until you are at a distance that you are comfortable with. Again, this could take several sessions.
As with introducing dogs to livestock, you may like to use a mature dog that is well used to horses, to 'show' your inexperienced dog how to behave, and that there is no need for a fearful or aggressive reaction.
If all is progressing well, you may wish to remove the lead from your dog. If your dog approaches too close to the horse, a warning command to keep his distance or a return to the lead may be required until he/she understands to give the horse its space.
As mentioned in previous blogs, even if your horse and dog are perfectly relaxed and have been well trained to ignore each other, if your dog thinks it's okay to get in and around your horse's feet, it only takes one moment of irritability from the horse and your dog could suffer nasty consequences from even the smallest of kicks.
Similarly, you may wish to train your dog that they must not step foot into your horse's stable. As a diligent horse owner, you will know that enclosed spaces can become dangerous very quickly.
Related Articles:
Introducing Your Dog To Livestock