Dog Treat Recipes: Peanut Butter Oat Balls
Posted on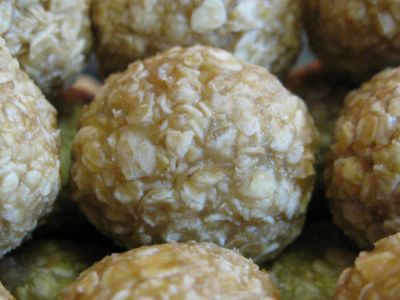 The magic words when it comes to recipes - 'no baking required'! These more-ish treats will have your dogs doing cartwheels just to get their paws on more.
Ingredients
Half a cup of milk
1 cup of smooth peanut butter
3 cups of porridge oats
Method
Line a tray with greaseproof paper
Thoroughly mix the milk with the peanut butter in a large bowl
Gradually add the oats and stir to create a thick mixture
Scoop out even amounts using an ice cream scoop and, using damp hands to prevent it sticking too much, roll into balls
Place on lined tray so they're not touching
Allow to set in the fridge for an hour before delighting your dog!
These tasty balls will last in your fridge for three weeks, or can be stored in the freezer for four months.
If you use a 'standard cup measure', this recipe will make approximately 34 treats. The marvellous thing about measuring using cups though is that so long as you use the same measure for all the ingredients, you can use any size of cup, mug or bowl. Ingredients should be level with the top of the cup, not heaped.
If you haven't got the time or inclination to make your own treats for your dog, don't forget you could simply choose from TP Feeds' fantastic range of healthy treats instead!
Related Articles:
Dog Treat Recipes: Sweet Potato Chews
Dog Treat Recipes: Chicken Jerky