Sweet Potatoes: Super Potatoes?
Posted on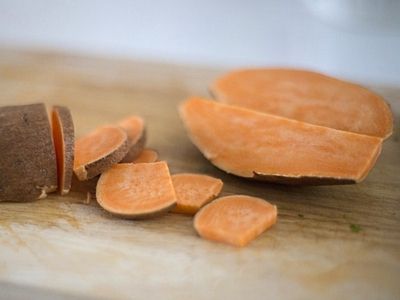 Not only are sweet potatoes a great alternative to grain, they also bring a whole host of their own special benefits to the table - or, should I say, the dog bowl. Let's look at some now...
A highly digestible ingredient that can actually soothe the stomach and digestive system.
High in fibre, thereby promoting a healthy digestive system and firm stools - which, in turn, benefits the anal glands.
Rich in antioxidants and vitamins, bringing anti-inflammatory and immunity-boosting benefits, as well as aiding eyesight, the skin and coat, the liver, kidney and lungs.
A great source of magnesium which is believed to be stress-reducing and promote calmess.
Due to the low glycemic index, glucose is released slowly into the bloodstream which helps to keep blood sugar levels more even and reduces instances of hyperactivity.
Low in fat and naturally gluten free.
Want to give all these benefits and more to your dog in a handy daily recipe? Order TP Feeds Grain Free Duck (with 26% sweet potato) today.
Or do you have some sweet potatoes at home that you want to offer to your dog? Try this simple Sweet Potato Chew recipe today.
Related Articles:
Duck For Dogs - A Wonder Meat
Are Oranges And Cranberries Good For Dogs?