Dog Treat Recipes: Chicken Jerky
Posted on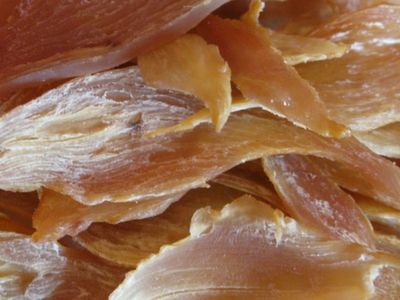 Another single-ingredient, super simple, super tasty dog treat recipe for you to try at home.
Ingredients
Chicken breasts - hardly ground-breaking information, to be fair...
Method
Preheat your oven to 200C
Lightly grease a baking tray
Remove any fat from the chicken breasts
Slice the breasts lengthways thinly - approx 5mm thick
Place your slices onto the baking tray and cook for 2 hours, turning halfway through
Once cooked, remove from the oven and place on a wire rack to cool completely
Once cooled, you can either leave the strips whole or cut them down into smaller pieces using scissors
If you've cooked more than your dog can sensibly eat there and then, these jerky strips will keep in the fridge for up to three weeks or in the freezer for up to 8 months.
If you haven't got the time or inclination to make your own treats for your dog, don't forget you could simply purchase TP Feeds Freshly Prepared Fish or Poultry Bites instead!
Related Articles:
Dog Treat Recipes: Sweet Potato Chews
Dog Treat Recipes: Peanut Butter Oat Balls