Dog Treat Recipes: Sweet Potato Chews
Posted on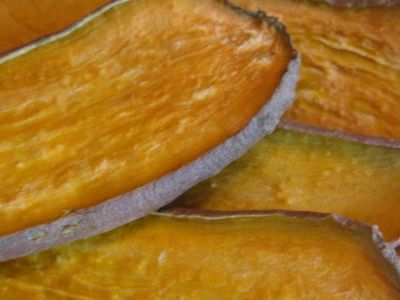 Ever fancied creating tasty snacks for your dogs but not sure what would be appropriate or how to go about it? Let's start off simple with these quick and easy sweet potato chews that your dogs are sure to love.
Ingredients
Sweet potatoes - surprise surprise! (You can make as little or as much as you like - so long as you have room in the oven, of course. Perhaps best to just start with the one potato to see how you go though...)

Method
Preheat your oven to 120C
Clean and dry your potato - no need to peel
Line a baking tray with greaseproof paper
Slice your potato lengthways into segments approx 8mm wide - don't go thinner than 5mm or you'll end up with very dry, crispy pieces
Spread your slices across the baking tray and place in the oven for three hours - turning them over halfway through
When you take them out of the oven, they may still feel too soft but if you allow them to cool on a wire rack, they'll continue to harden a little as they dry; resulting in a delightfully chewy, healthy treat!
If your dog hasn't gobbled them all up, these will keep in the fridge for around a fortnight or in the freezer for 3-4 months.
If you haven't got the time or inclination to make your own treats for your dog, don't forget you could simply purchase TP Feeds Freshly Prepared Fish or Poultry Bites instead!
Related Articles:
Sweet Potatoes: Super Potatoes?
Dog Treat Recipes: Chicken Jerky
Dog Treat Recipes: Peanut Butter Oat Balls