Canine First Aid: What To Have In Your Kit
Posted on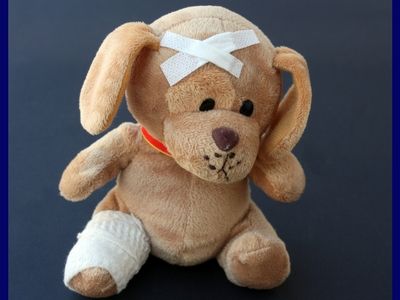 When you go down to the woods today, will you be in for a big surprise? Hopefully not, but would you be prepared if something untoward were to happen to your dog whilst out on your walk? If he were to slip a leg through an animal hole and sprain/break a leg, wound himself on a piece of mislaid barbed wire or get a splinter in his eye, would you know what to do and would you have a suitable first aid kit to hand to help your dog before you could get to a vet, if necessary? Here I discuss a few things that you should think about popping into the car next time you head out.
Self-adhesive bandage (eg Vetrap™)
Large non-adhesive absorbant wound dressings
Surgical tape (eg Micropore™)
Tissue Adhesive (eg Vetbond™

)

Eye rinse/wash
Antiseptic (eg Hibiscrub™

)

Cotton wool
Blunt-ended scissors - preferably curved
Tweezers
Surgical gloves
Elizabethan collar (aka 'cone of shame')
Towel
Water
Veterinary practice's card

- including out-of-hours telephone number

Pen and paper

- for taking notes if the vet gives you instructions over the phone or directions to an out-of-hours practice that you may never have been to before
This list is, of course, by no means exhaustive. There will always be eventualities for which you would need further, more extensive, equipment but unless you're actually a veterinarian, we can't all carry a full surgical kit in the back of our cars. However, it's always handy to have a few necessities that could, one day, save your dog's life by buying time for you to get him/her to the vet.
Related Articles:
Canine First Aid: Severe Bleeding
Canine First Aid: Ticks
Dog Bites: Warning Signs And How To Recognise Them