Multi Award-Winning Business - 2017 Has Been Kind To TP Feeds
Posted on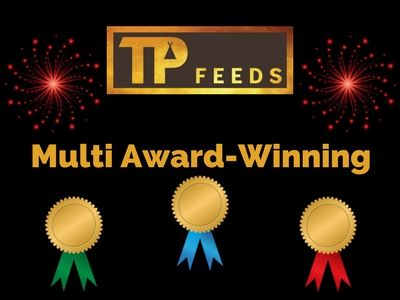 As many of you are aware, TP Feeds has somewhat 'boomed' in the short time since its launch in April 2017 and I couldn't be prouder nor more grateful to all of you, my customers.
Back in August, I was notified that TP Feeds was to be announced as a winner in the Welsh Enterprise Awards 2017 and, at the end of October, those results were officially published. There it was in black and white, I could stop pinching myself and saying it must not be true as there it was staring back at me from the publication by a national business news outlet controlled by a global media company.
In mid-November, a lovely lady from Corporate Vision magazine, an international online business publication, got in touch to inform me that TP Feeds had been named in their 2017 UK Business 100. I was gobsmacked. She informed me that my inclusion in the list was based upon 'a wealth of outstanding reviews and testimonials' that had come to light during their research, the 'outstanding growth throughout the year' that TP Feeds has seen since launching, as well as further undisclosed research that they carried out into TP Feeds.
This wasn't the end of the exciting news for 2017 though. In mid-December, I received further correspondence, this time from the Worldwide Business Review to inform me that TP Feeds had been awarded in the 2017 Global Excellence Awards.
What will 2018 bring? In terms of awards, who knows? In terms of excitement, growth and reaching more and more people and their animals with TP Feeds' outstanding nutrition? Well, that's a definite.
Happy New Year!
Related Articles:
Winner In The Welsh Enterprise Awards 2017
TP Feeds Has Gone Green - Recycling Scheme