Herefordshire Show Report 2017
Posted on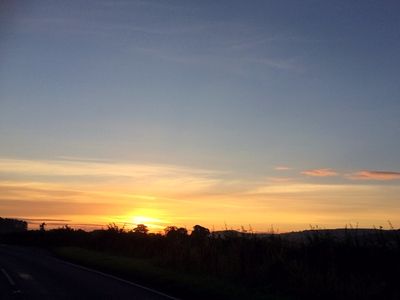 I had been both looking forward to, and feeling apprehensive about, the Herefordshire Country Fair held on the King George V playing fields on Sunday 6th August this year. Looking forward to it because it was TP Feeds' first foray into English territory. Apprehensive because it meant a 3.30am alarm call... Mixed feelings or not, the day dawned and off I went!
I have to say that the drive there, through somewhat bleary eyes, was actually quite enjoyable. I saw a total of four foxes at individual points of my journey. All foraging away on the grass curbs and not in the slightest bit perturbed by my headlights or presence in general. The closer I got to England, and indeed, once I'd crossed the border, the more rabbits I seemed to see - at one point there were three all bouncing around someone's driveway. I even had a buzzard decide to keep me company and fly low just over the front of my car for a long, straight stretch - perhaps it was using my headlights to spot its breakfast?
So, I eventually arrived at the showground, barely more awake than when I'd started. Although having to find my way through the city centre was interesting, and usual for a 'Country Fair'. Upon arriving, I was greeted with a question as to whether I was there to help on the gate. 'No,' I informed them, 'I was there to set up my stand.' They looked vaguely surprised but pointed me in the general of the appropriate marquee, amongst several other, identical-looking marquees. Now all I had to do was find my way through the labyrinth without finding myself somewhere that I shouldn't be or finding my way blocked by a cordon. That was interesting. Fortunately, a small van came past me and looked to be heading roughly where I wanted to go so I followed him - all the time hoping that he knew what he was doing!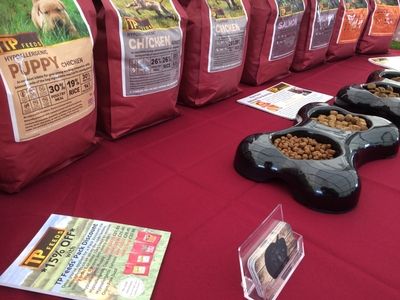 Once I arrived at the marquee, I could see why the people on the gates looked surprised to see me; there was only one other stand setting up. It looked like everybody else fancied being last minute! There were no stewards in sight so I asked the gentleman from the other stand if he knew had being offered any extra information, particularly regarding parking once we'd offloaded. He hadn't, but he did inform me of his plan regarding parking - he was going to leave his car exactly where it was and if anybody told him to move it, they could shove it. (Or words to that effect...). I decided that parking next to him would be a good bet, he'd have my back.
Luckily, we had been sent a map of the marquee via email prior to the show so I knew where my stand would be. However, there were no tables provided, which I'd paid for with my application. The morning was not exactly going smoothly and I still hadn't really woken up, although my stomach had and it was reminding me that I'd skipped breakfast! Fortunately, we found a stack of tables and managed to organise ourselves. Who needs stewards...? I was very pleased that my surrounding stallholders turned out to be absolutely delightful. Some shows can be a real drag if you're surrounding by grumps or, worse, cliques of people that do their local shows together and totally ignore anyone that's 'new'.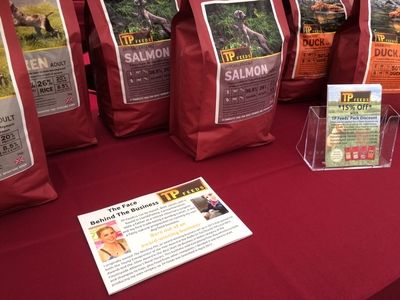 The day itself flew by with hundreds of people coming by my stand and around 90% of them stopped and showed real interest in TP Feeds' dog food, with many of them purchasing bags for their dogs. The majority of people actually had their dogs with them and they certainly made the most of the free samples on display! It's definitely a fine balancing act when giving out free samples - whether it be dog kibble or human food. The intention is for people to see the quality and the size/shape of the kibble, and if they have their dogs with them, they're obviously welcome to try a piece or two; not, as one man did, come over, grab a whole handful and say, 'I'll just see if the puppy likes this and then I'll come back and buy a bag.' I didn't hold my breath. He wasn't coming back. He'd just forgotten to bring food for his puppy and had grabbed himself a free meal. As the saying goes, 'Nowt queerer than folk,' and, as any of my friends that also run their own businesses and trade at shows will tell you, you don't half meet them all at country fair and county shows!
Fortunately for me, the lovely new customers far outweighed the cheeky ones at the Herefordshire County Fair. I had a fantastic day, came home with a far lighter car than that which I'd arrived, and have had a flurry of orders from the area since. Certainly a show that I would do again and a good first taste of trading in England. Roll on the Mid Somerset Show and the Wiltshire Game and Country Fair.
Related Articles:
CHC Country Fair Report 2017